Other members of
Nuts & Bolts
Bob Flag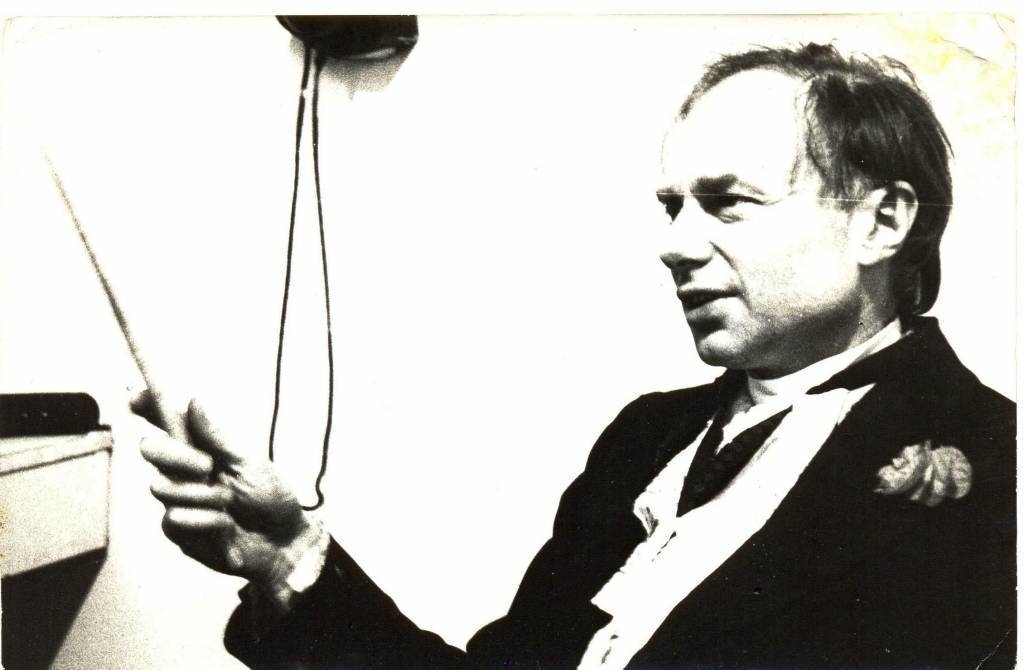 Here he is, the multi-talented Bob Flag who started Nuts & Bolts with Ron Regan all those years ago! He now is most famous as Big Brother! He has spent his time between London and Japan with his wife Takei until they made the permanent move to Japan in 2016. They now spend a lot of time writing books and translating each others work, as Bob is fluent in several languages including Japanese but Bob still has an interest in comedy and regularly teaches and performs in Japan.. His latest book is about his life in showbusiness and is called 'DRUMSHTICK'
Tommy Shand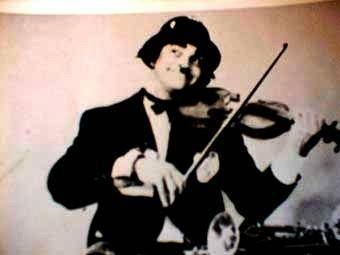 Tommy Shand worked with Nuts & Bolts for a period after Howie died but he wouldn't leave his beloved pet dog to work abroad so unfortunately he had to leave. Sadly just after the boys had left the UK, the ruddy dog died anyway! Tommy was a very funny man and an excellent musician but one has to say he wasn't an easy person to work with. He could be a bit dour. He did come back to the act a few years later when Nuts was increased to a six piece for Las Vegas. I remember doing a job with them in London where as a try out, Tommy was wheeled onto the stage in a big old bath chair wearing a fake 'gammy foot' At the end of the show Nuts & Bolts used to all march off the stage playing their instruments and of course everyone forgot that Tommy was left behind. No one noticed that he was still sitting on the stage. The play off music stopped, the applause died down and then slowly people began to realise that Tommy had not moved! The titters began to increase as the crowd thought it was part of the act and It was only when the lads in the dressing room heard the screaming laughter that they realised their error! Little Stan toddled on (in character as the loopy old man) and pushed him off without a word. it was the funniest thing I'd seen in years! The saddest thing I've seen was Tommy's funeral. We were working with Circus Roncalli in Germany when we were told Tommy had died. I came back to the UK to represent Nuts at the funeral and there was only four people there including me. Mine was the only wreath, especially ordered by Nuts in the shape of his violin and I was never so glad to get back to Germany.
Joe Chisolm
Joe Chisolm took over at very short notice when Cyril Lagey was diagnosed with terminal cancer just weeks before we were to travel to the USA for Kenneth Feld's Kaleidascape. Joe had been a song and dance man for over fifty years and had just about retired when we dragged him with us to the States. He loved it though, when we got to New York he saw his family for the first time in fifteen years. His ex wife, son and daughter came to see the show in Manhatten and over the long run there he saw a lot of them. It was a good job they did because Joe died less than month after we finished New York. I had known him for about twenty five years and we used to work together often. Joe was a brrilliant tap dancer and cane twirler. I remember one night in the seventies when Joe rang me at home. He was in a terrible state and told me he had arrived at the working mens club to do his show only to find that they had newly refurbished the concert room and had very proudly carpeted the stage! 'How can I tap dance on a carpet?' he wailed! So, I jumped in my car with a piece of formica left over from a kitchen refit and promptly saved the day! Joe tap danced, did the job and got paid!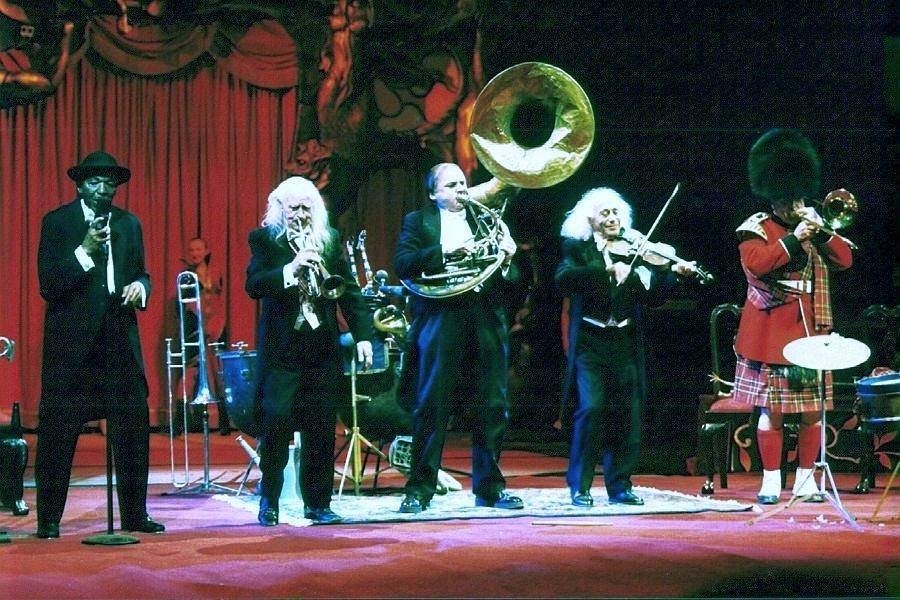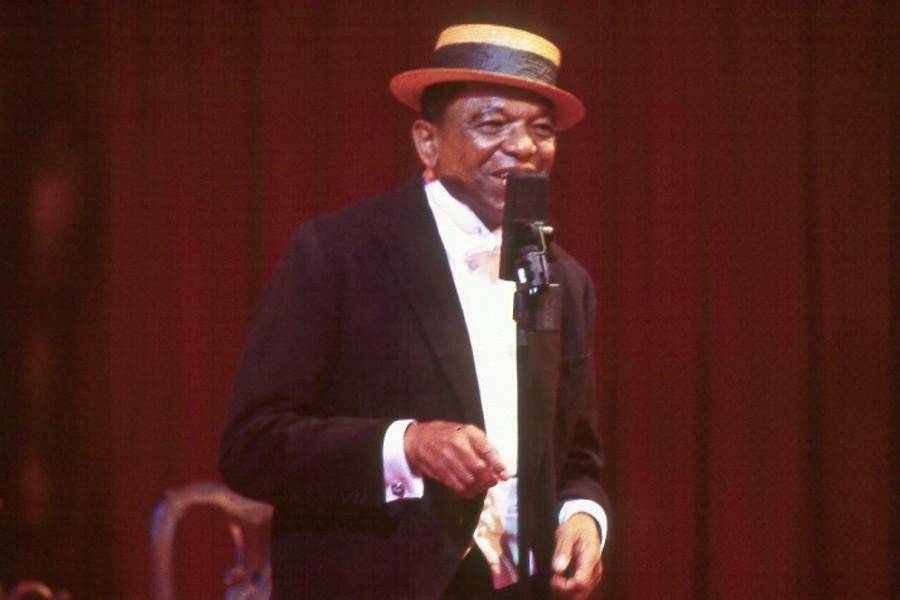 Pete Lindup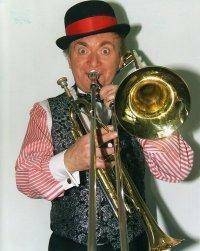 Pete Lindup often worked with Nuts & Bolts over the years. He is from Blackpool and some of his late father's cartoons can be seen on a lot of the old Nuts & Bolts publicity material. Pete is a solo artist and a multi-instrumentalist. He is often on local and internet radio and plays in various jazz bands all over the UK.
Maggie Regan
I have appeared many times with Nuts & Bolts over the last thirty five years or so but in America I not only worked as a part of the act in the Kaleidascape show but I also stood in for Joe Chisolm when he wasn't well. Here is a photo of me taking the place of the Consultant while the TV Company were setting up lighting and paces etc. I often stood in at rehearsals in Germany for Cyril Lagey, singing his songs in a high pitched voice for the sound checks. Funny though, they were both tall black dancing men and I am a five foot nothing, pale, clumsy duck! We did have a laugh though! Joe and I used to do a little dance routine to Bill Bailey and after this short routine I was often knackered! Joe in his late seventies was almost forty years older than me but he kept dancing right to the end of his life! I played washboard in the States and when we played in New York people told me that you could not buy a washboard in the whole of the State, they were completely sold out because I had all the kids learning to play them! The local paper called me 'Maggie, Washboard Queen of Manhatten' It didn't go to my head though, weeks after finishing in New York my next job was at a really awful dump in Hackney! 'Maggie, 'Old Hag of Hackney?'The photograph below show the pre show at Barnums and Ron used to play the drums with a drumstick up his right sleeve and play the banjo at the same time! Crowd loved it!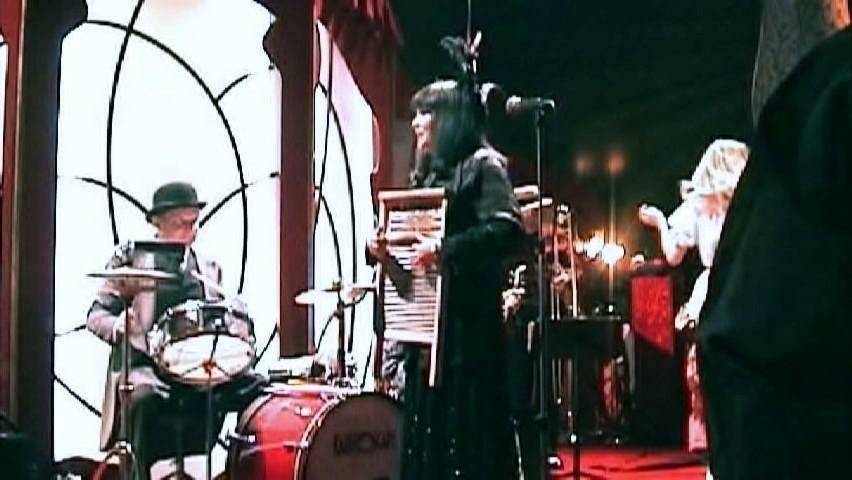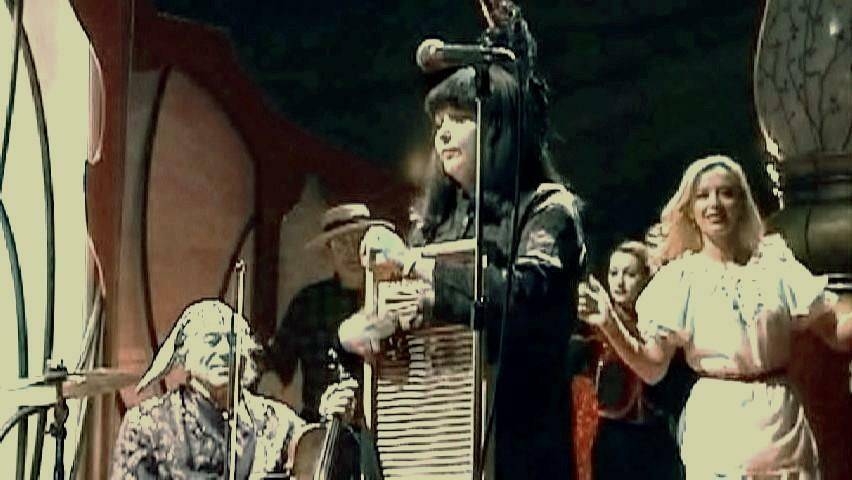 Bob Flag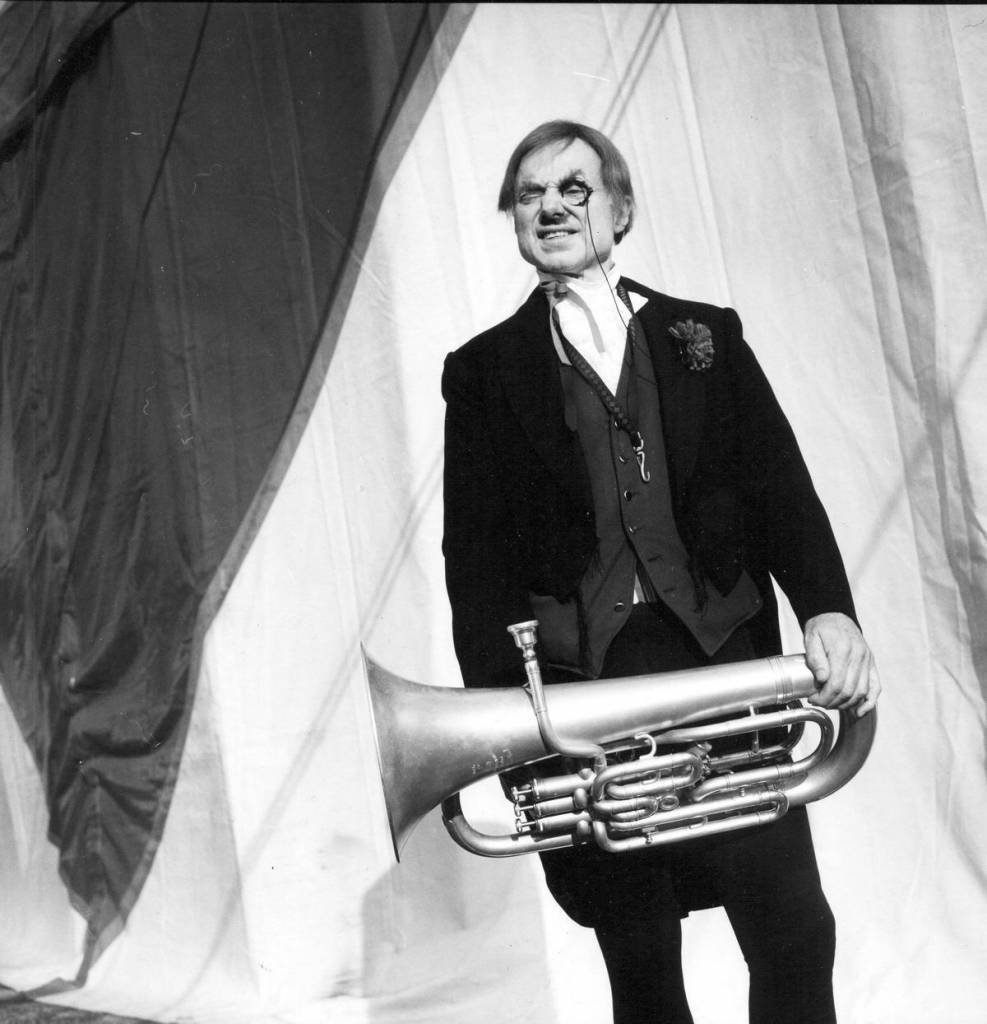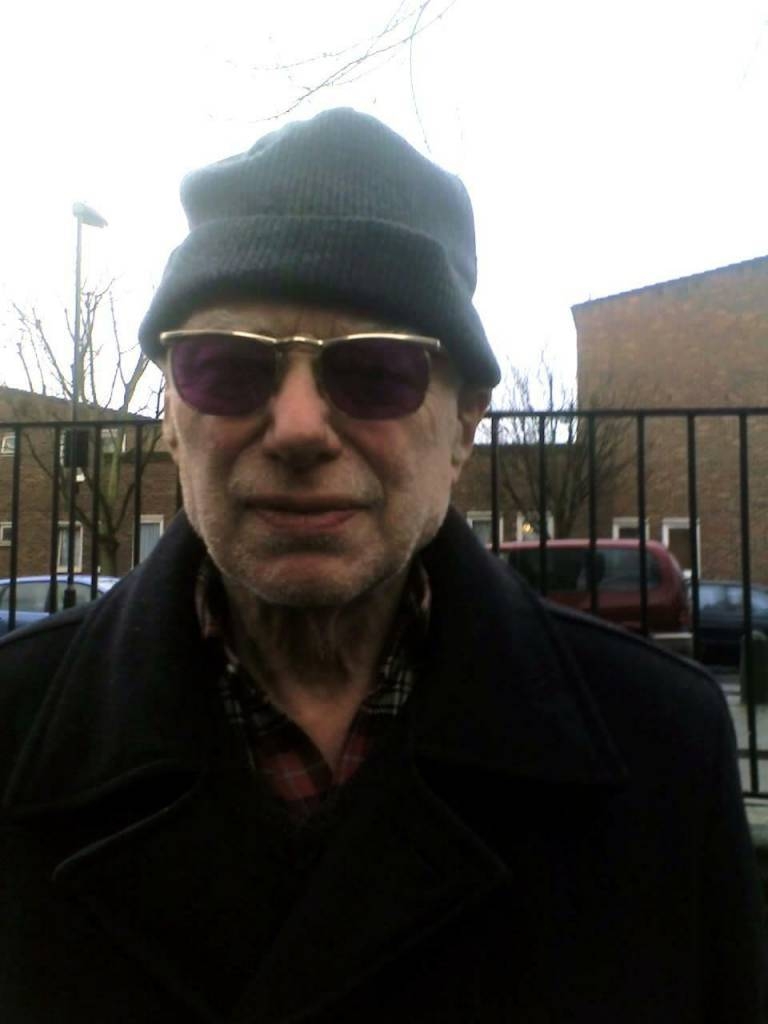 Tommy Shand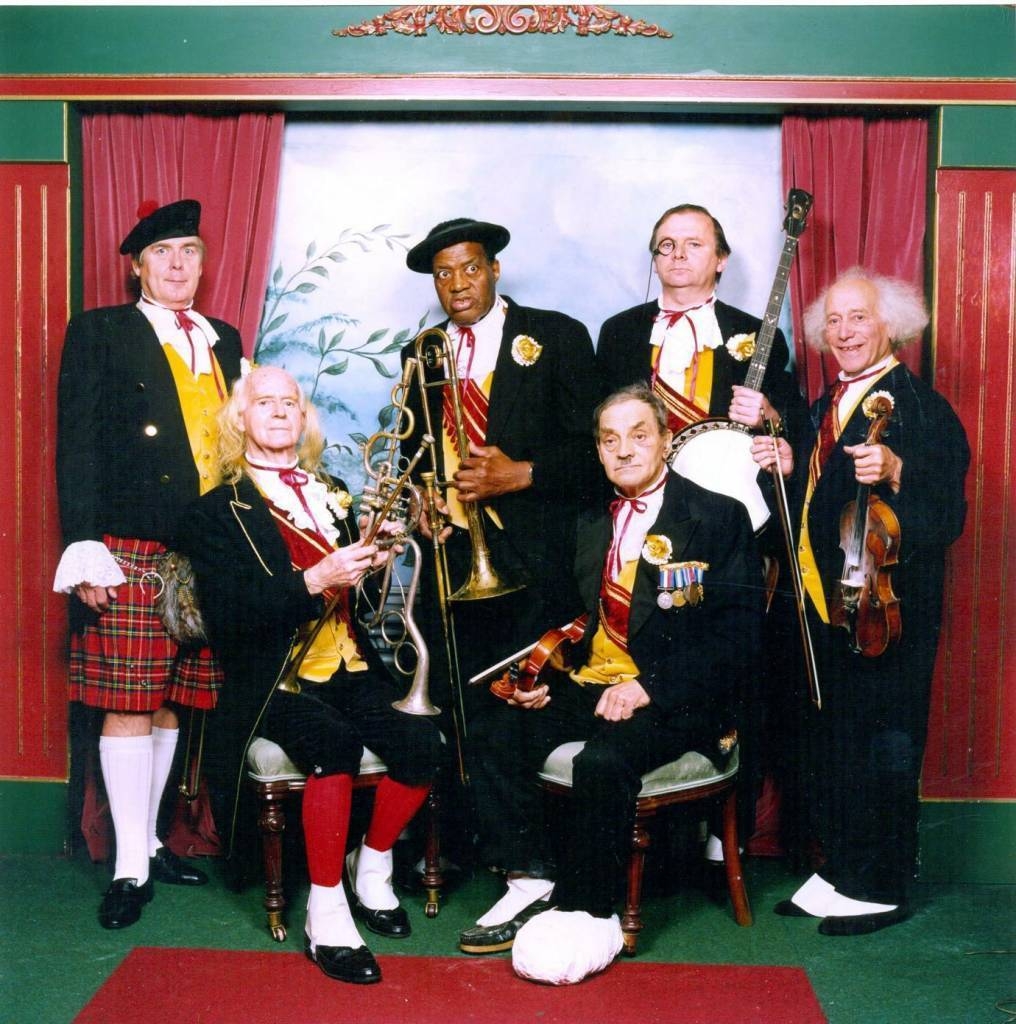 Joe Chisolm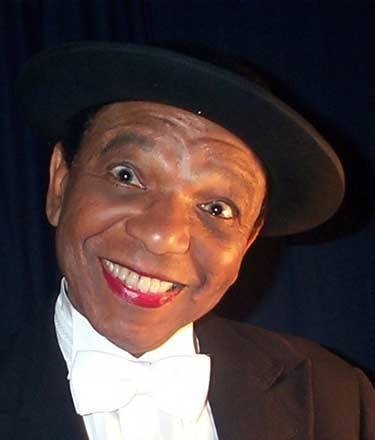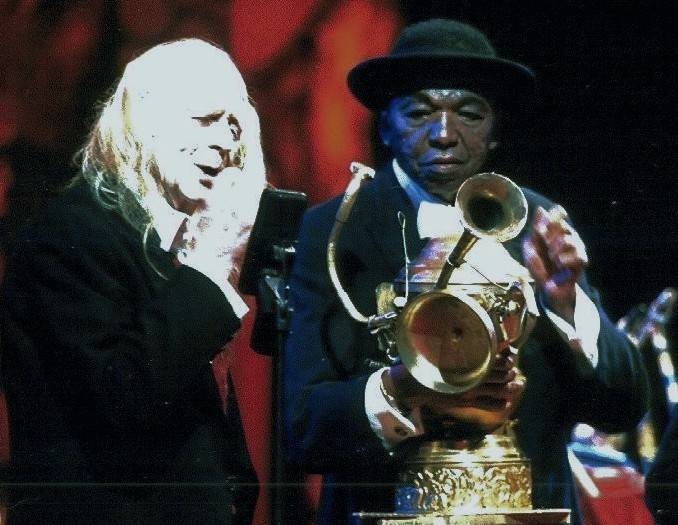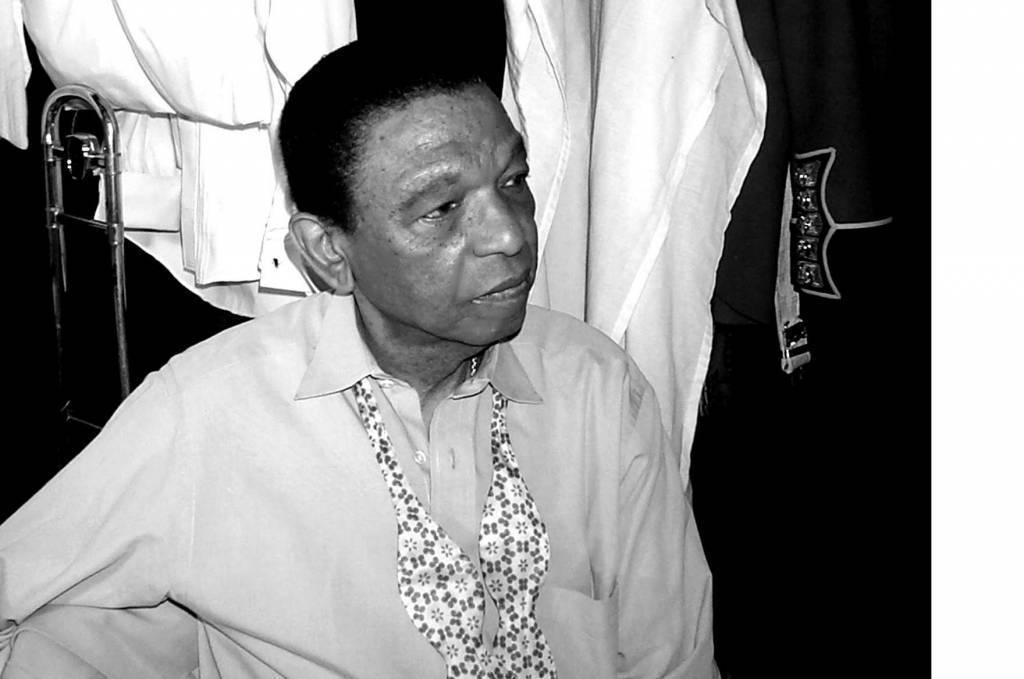 I took this photgraph of Joe on Dec 31st 2000. He died less than 4 weeks later.
Pete Lindup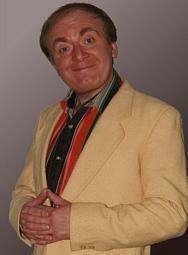 Maggie Regan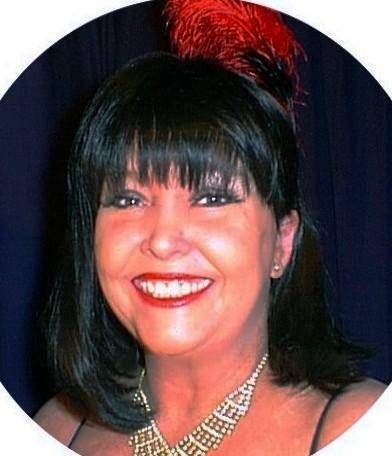 Maggie Regan
Oh I luv me feathers!
in Germany above and below:
In the USA standing
in for Joe - that's me on the left!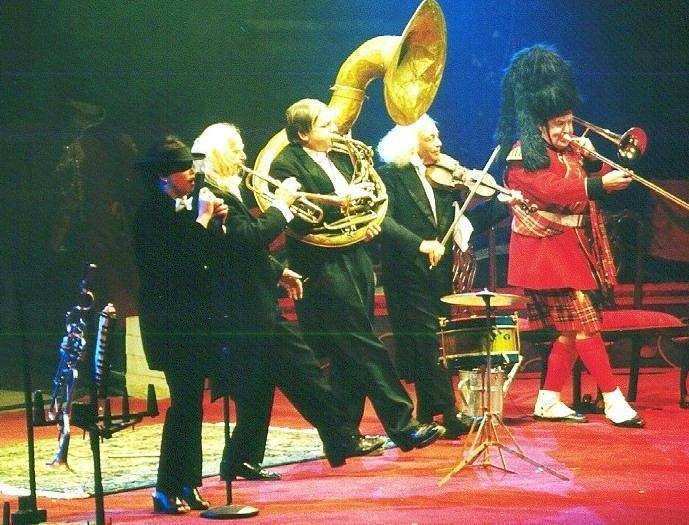 Press here to hear Maggie.
The Summer Wind