It all started in 1972 when Ron Regan and Bob Flag decided to form a comedy act called Nuts & Bolts. Ron then met Antonio Traversi in an agents office in London and recognised him as ex Nitwits. Tony was a wonderfully eccentric character and a faultless musician who could play anything, so they started an act the was to last almost thirty five years. There were a few changes in the line-up over the years but Nuts were in constant demand all over the world. Even now in 2009 we still get enquiries for bookings! I apologise in advance for some of the photographs on this site. I have 'refurbished' them as much as possible and I think you can get the gist!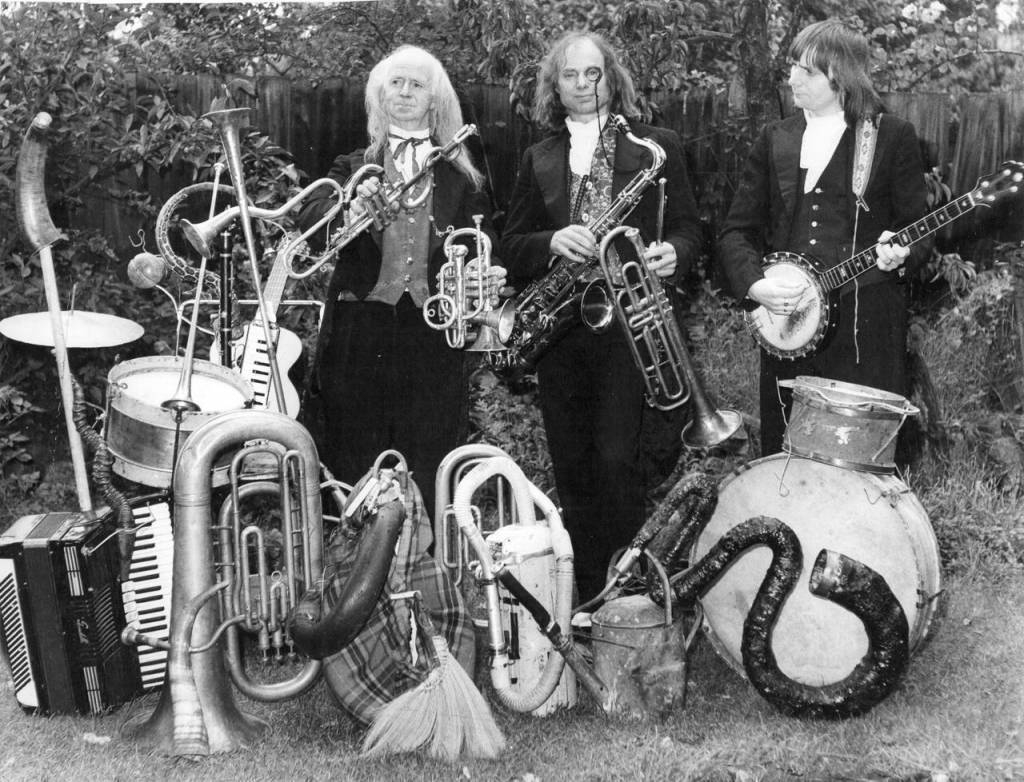 Left to right Tony, Bob and Ron
Nuts & Bolts 2
The influence Ron Regan had on his brainchild Nuts & Bolts has never to be underestimated. Not only did he have complete control of the act from the beginning, Ron had an unerring eye for getting the right person for the right character. When Bob Flag left in 1974 to pursue his writing career Ron immediately enlisted all rounder Cyril Lagey as 'The Consultant' and saxophonist Howie Morgan as 'The Little Man'. Dour Welshman Howie's history was colourful but he was the nicest, funniest man and audiences loved him. Cyril Lagey was an old pro who had also been with the Nitwits and blended in perfectly opposite Tony as 'The Professor' and with Ron as 'Special Assistant Ronaldo' This incarnation of Nuts lasted for years until sadly, Howie became too ill to work and died in 1985.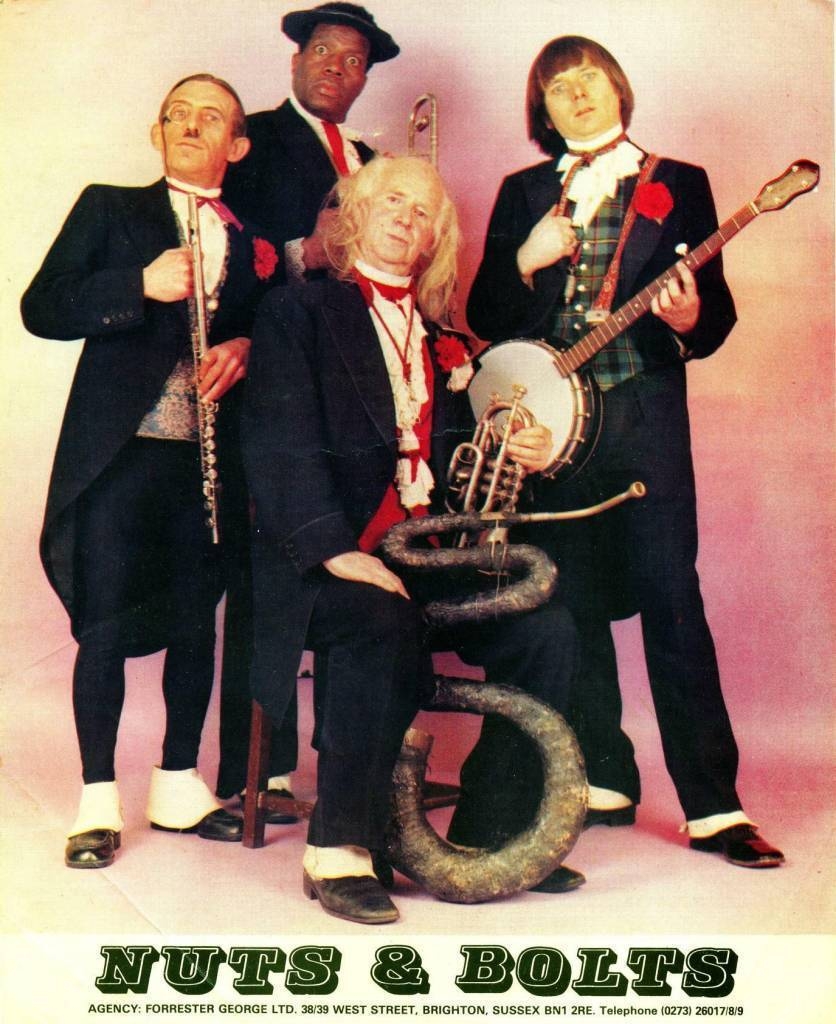 Left to right Howie, Cyril, Tony and Ron
Nuts & Bolts 3
Replacing Howie was never going to be easy but once again Ron Regan's nose for talent found David Pogson, a trombonist who had been on the London band scene for many years. Poggy is at the time of writing, alive and kicking and still playing with several different big bands. In 1986 Dave joined Nuts & Bolts as 'The Scotsman' and like Special Assistant Ronaldo, The Scotsman never uttered a word on stage. Dave was a very good 'mime' always the angry man on stage, Dave is anything but -off stage. He and the late Stan Van (a later addition) became like the two old men of The Muppets. Every night in the dressing room they would slightly imbibe(?) and put the world to right. They were the only two men I knew who could drink gallons of the ugliest red plonk that made your teeth go black for a week and still do a note perfect show!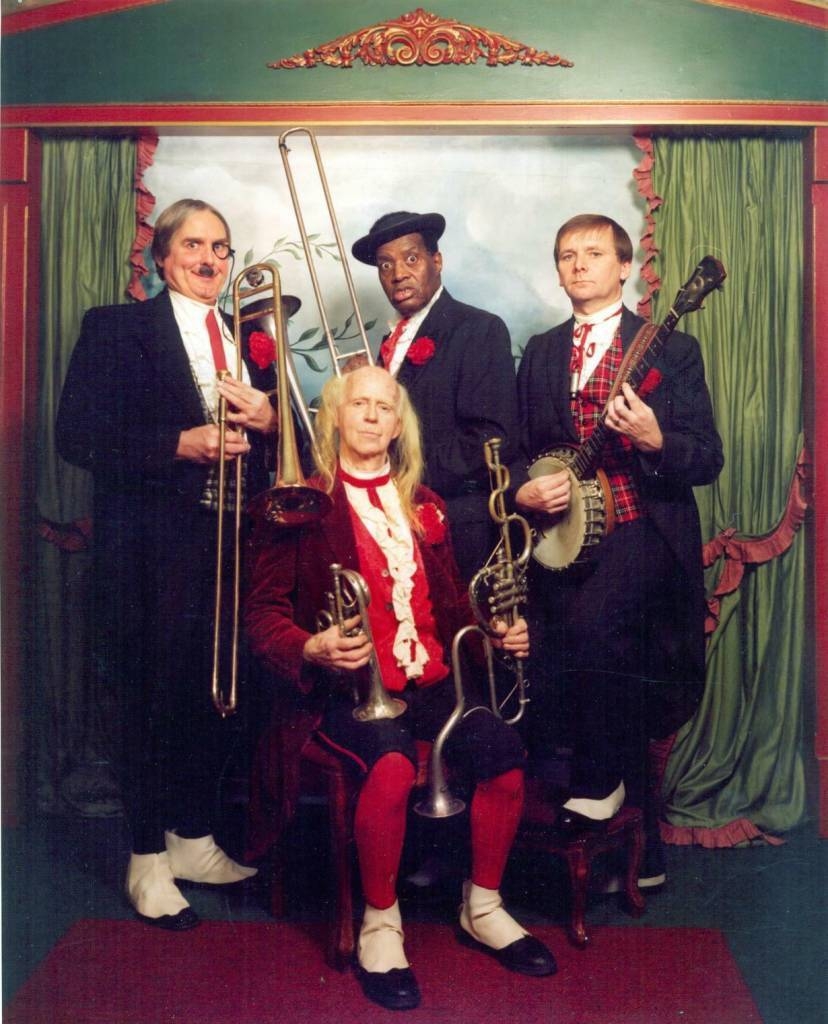 Left to right Dave, Tony, Cyril and Ron
Nuts & Bolts 4
In 1994 Nuts & Bolts were approached by agents from the USA with a view to performing in Las Vegas at Ballys on the Strip. Ron was asked to increase the size of the act to a six piece. This was not only to make the sound bigger but to fill the huge stages in Las Vegas. Enter their old friend Tommy Shand who had worked with them in the past on violin (see Tommy bio) and the inimitable Stan Van Hoorn on fiddle! Nuts had found another 'Little Man' I remember when Stan came to our house to discuss joining. I had never met him before and at scriptwriter Mike Martin's suggestion, Stan came for tea. I opened the door and quite rudely burst out laughing! Stan had a face made for comedy, he played like an angel and merged perfectly into the madness that was Nuts & Bolts. Sadly the Las Vegas job didn't come off and Tommy Shand had to stop work due to illness, but Stan 'Count Rossini, stayed. The then five piece (and moi) decamped to Germany for two years with Circus Roncalli. Stan become very famous there and was chased around every town we worked in by children shouting his catchphrase at him, 'So Sorry!' He loved it and often said he was having the best time of his life (he was 75 at the time) and there was even better to come!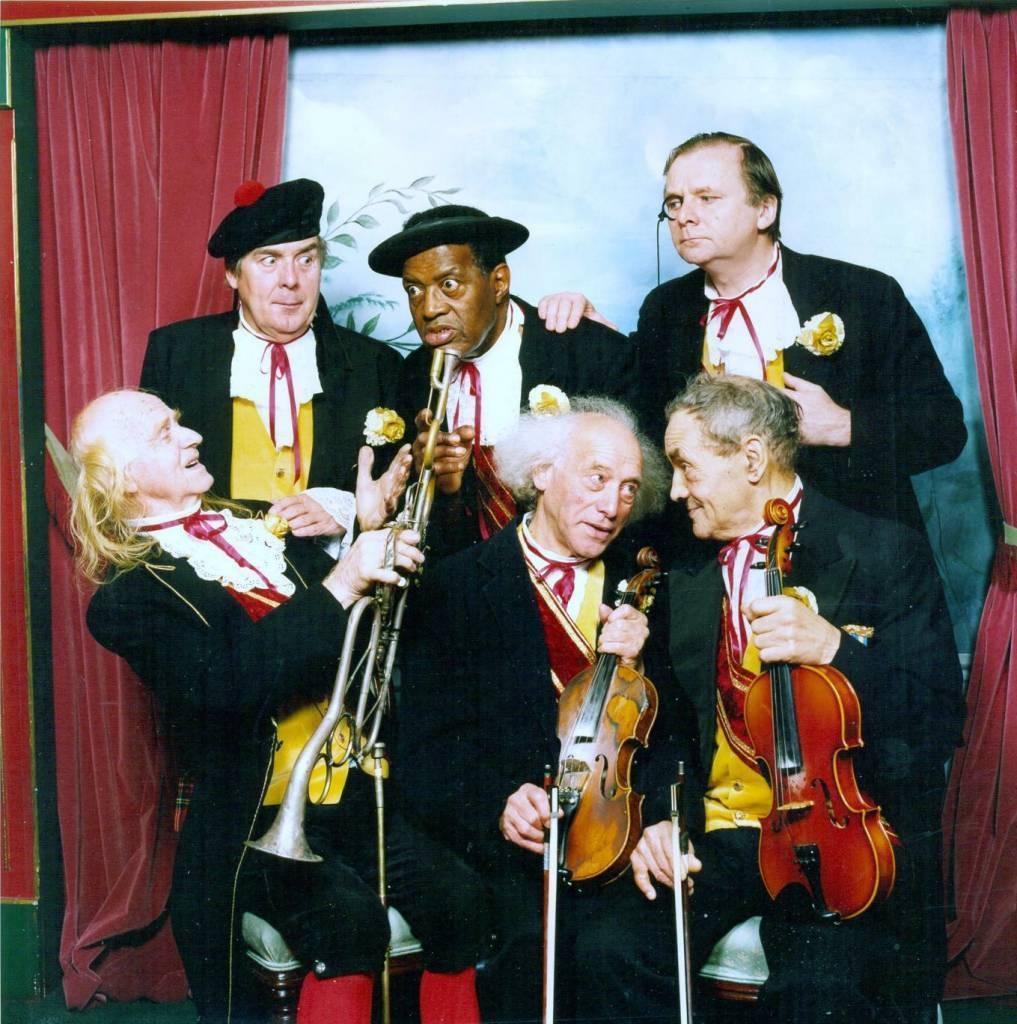 Left to right Tony, Dave, Cyril, Stan, Tommy, and Ron
Nuts & Bolts 5
After finishing with Roncalli late in 1997 Nuts returned to the UK and worked the usual type of venues in 1998. Kenneth Feld the famous American entertainment mogul responsible for huge shows like Zeigfreid & Roy in Vegas etc., had seen their act in Germany and decided to include Nuts and stage a single ring circus show in the style of Bernhard Pauls famous European Circus Roncalli but in the USA. This production cost in excess of $10 million. Visas were attained and the contracts were signed for two years. Unfortunately the irreplaceable Cyril Lagey was diagnosed with terminal cancer and didn't get to do one of the best jobs that Nuts & Bolts had ever had. Ron was also left with the biggest obstacle he had ever had. We needed a black man who was funny and who could sing and dance. Derr???!! We also only had about six or seven weeks to find him and to sort out a visa! I then remembered an act I used to work a lot with in the eighties. Joe Chisolm, a New Yorker, a song and dance man who had never done comedy in his life but when we found him and dragged him out of retirement he did it! and we kept the job! (see Joe's bio) Cyril died just after we reached Sarasota in March 1999 and we were saddened because we couldn't even pay our respects to our old friend in London. He was buried without even one of us being there. We missed him a lot and although Joe did the job well he was not Cyril and it never felt like the same Nuts & Bolts. There was something also about Joe that we didn't know. He too was suffering from cancer! We came back to England on January 1st 2001 and in less than a month he was dead (see Joe bio) Nuts & Bolts unknowingly did their final show as a four piece at the Opera House Blackpool with their old friend Ken Dodd in 2003 in front of an audience of three thousand. Tony was 89 and Stan was 80. Tony died in 2004 and then we lost Stan in 2005. They went out on a high! Nuts & Bolts had been seen by hundreds of thousands of fans. Been on TV in hundreds of countries, worked with the biggest and best names in showbusiness but most of all had made a good living doing what they enjoyed! The End? How could it be? It was only yesterday we were laughing and singing the old songs at the tops of our voices in the old band bus whilst travelling on some godforsaken back road somewhere in deepest Europe in the middle of the night, (normally when I was driving and got hopelessly lost on the way home.)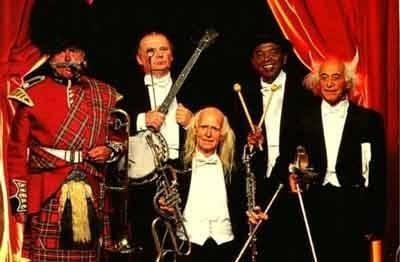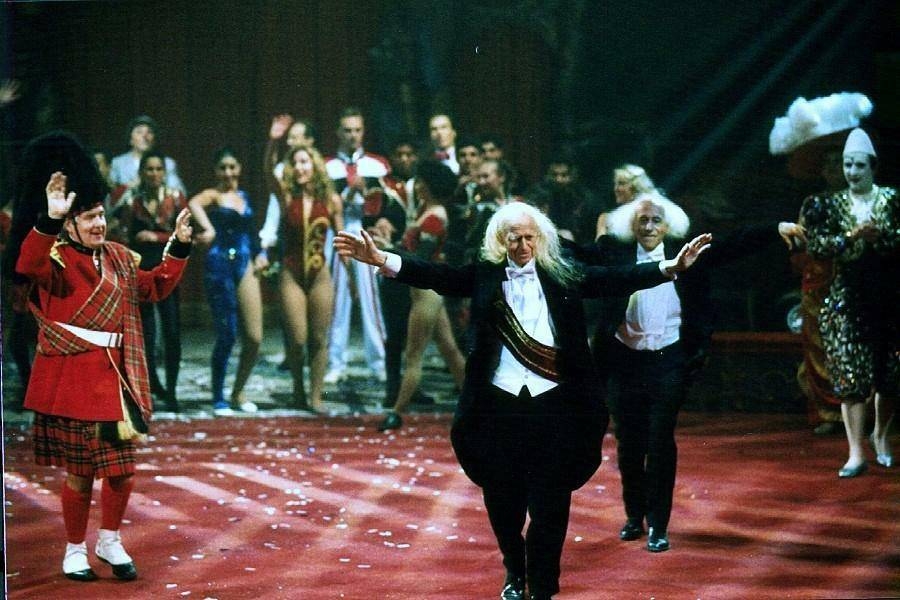 The Last Nuts & Bolts
Happy Days. ....................Tabs closed .